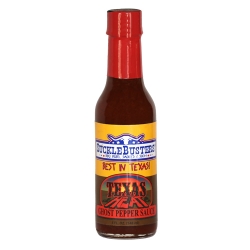 SuckleBusters Texas Heat Ghost Pepper Sauce 5oz
Dit is een vurige mix van chilipepers in een dikke en pittige saus. Zeer winterhard. Met de Bhut Jolokia Pepper of Ghost Pepper en een mix van andere hete chilipepers. Zeer heet hitteniveau – maar niet krankzinnig. Uitstekende eetsaus op sandwiches, soepen, stoofschotels, chili, pizza, groenten, Tex-Mex, eieren of gebruik als marinade op vis en kip.
Ingrediënten: Paprika, water, azijn, zout, suiker, ui, jolokia peper, kruiden en xanthaangom. GEEN MSG. Natuurlijk glutenvrij.