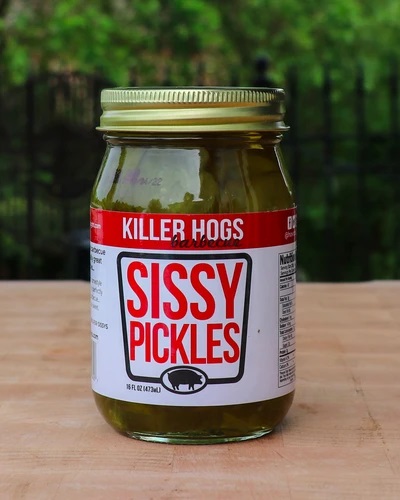 Killer Hogs Sissy Pickles 16oz BBD 19-04-2023
Not to be confused with Bread and Butter Pickles, Malcom calls these "Sissy Pickles" for folks who are afraid of the heat – but love a great sweet pickle! That's why we made an always-crispy pickle that is packed with a delightful sweet flavor. Super sweet and super delicious!
Ingredients: Pickles (cucumbers, distilled vinegar, salt, alum, turmeric, spices, sodium benzoate & polysorbate 80) & sugar.
The manufacturing facility where Killer Hogs is produced does not use any product that contains tree nuts. Killer Hogs products do not contain gluten, but they are not manufactured in a gluten-free facility.